Free higher education: UK vs Germany
Education has positive benefits for the whole society. With higher education, people have more job opportunities and the country has a larger skilled labor force. Whether or not higher education should be free, is a recurring topic of debate around the world. The main cause of the debate is growing tuition fees and student loan debts. In regard to the ever-increasing student loan, a simple solution can be to provide tuition-free higher education at public universities. However, this costs for the tuition-free higher education has to be recovered from elsewhere – Increase in Taxes! In recent times, this debate has led to surprising policy changes in countries around the world. Let's have a look at why or why not is the higher-education free in two popular destinations for international students to study in UK and study in Germany.
Study in UK: Why is higher education NOT free?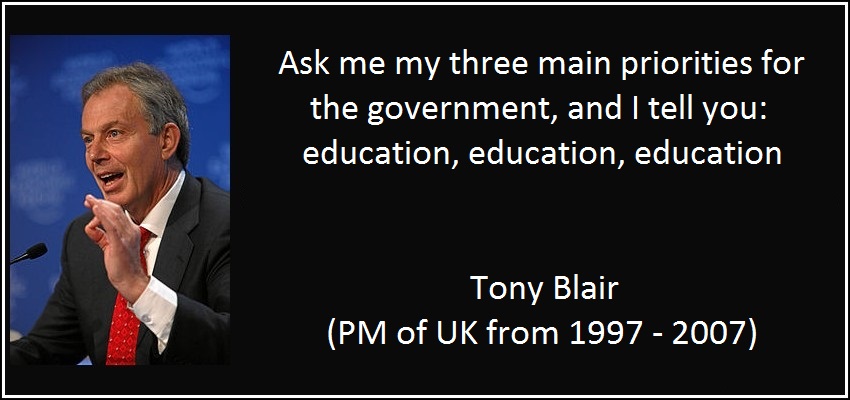 Two years after Tony Blair made the about statement, tuition fees were introduced as a means of boosting funding to higher education in the UK on basis of the Dearing report (National Committee of Inquiry into Higher Education, 1997). Two of the important points stated in the report were:
We do not underestimate the strength of feeling on the issue of seeking a contribution towards tuition costs: nor do we dispute the logic of the arguments put forward. A detailed assessment of the issues has, however, convinced us that the arguments in favor of a contribution to tuition costs from graduates in work are strong, if not widely appreciated. They relate to equity between social groups, broadening participation, equity with part-time students in higher education and in further education, strengthening the student role in higher education, and identifying a new source of income that can be ring-fenced for higher education.
one discussion I have heard in the UK for tuition fees is:

 Benefactors of education are students; hence they should pay a tuition fee instead of taxing those who don't want to go to university. For example, why should a carpenter who did not go to university pay higher taxes so someone else can get a free education?

We have, therefore, analyzed the implications of a range of options against the criteria set out in paragraph 20.2. There is a wide array of options from which to choose, ranging from asking graduates to contribute only to their living costs through to asking all graduates to contribute to their tuition costs. We have chosen to examine four options in depth
In response to the findings, the Teaching and Higher Education Act 1998 was published on 26 November 1997, and enacted on 16 July 1998, part of which introduced tuition fees in all the countries of the United Kingdom.
Scotland is an exception: Students that are ordinarily resident in Scotland or the European Union do not pay tuition fees for their first undergraduate degree. All students are required to pay tuition fees for postgraduate education (e.g. MSc, Ph.D.), except in certain priority areas funded by the Scottish Government, or if another source of funding can be found (e.g. research council studentship for a Ph.D.).
SEE ALSO: UK visit visa for Non-EEA nationals living in Germany
Study in Germany: Why is higher education free?
1. The Aging Population
Germany has the third highest population ( ~21%) of people above 65 (source: World DataBank) and hence, needs young skilled workers to get the economy going. International students after finishing their studies are keen to stay back at least for some time or in case of many for life. A study suggested 69.2% of students stay back in Germany after completing their study course. This helps Germany fulfill the lack of skilled workers.
FAQs about Studying in Germany – The Honest Blog
2. The Goodwill Factor (by offering free education to Foreigners)
Students going back to their own countries after studying in Germany for free create goodwill for Germany and give Germany a good name in the international community, which benefits Germany in the long run (and for acquiring new students). In addition, students going back (with knowledge of the German language), are a potential partner for international collaboration with German companies.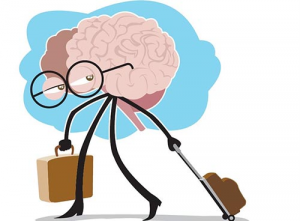 SEE ALSO: Advantages of being a student in Germany
The Partial Truth
Also, the idea that higher education in Germany is free is only partially true. Students still have to pay an administration fee of €150-€250 a term, for which they get access to canteens, sports facilities, a student travel card, etc.
While there are no tuition fees for bachelor degrees at state universities, some states will charge students for so-called "non-consecutive" masters degrees, i.e. courses that don't build on the subject they have studied as undergraduates. Those who drag their feet and take too many semesters to complete their courses also have to start coughing up additional fees in most of the states. So there is still money following in the German education system. The money flowing in from private source was around €2.8 billion in 2015.
KISS – Keep It Simple Silly
Germany universities don't invest a lot in developing accommodation for students. Most students (around 90%) have to search for privately rented accommodation (which is not cheap). German universities also save money by not investing in resources to provide a very structured course. Students have to organize their own studies. There is no one to hold your hand and lead you through the study course. The burden of learning is on students and not the university. Also, the number of Professors/lecturers to students is very low.
SEE ALSO: Is studying in Germany hard? – Know what you need to do!
The Politics
Yet another reason ( that I have heard of) is to do with politics. After 2006, some states set fees to university but had to hastily scrap them under pressure from the public and left of center parties.
CAUTION
"Free University for overseas students – and indeed German students as well – may come under increasing pressure after 2020, when Bundesländer (states) will be forced to run balanced budgets" – Ulrich Müller, head of policy studies at the Centre for Higher Education. Some universities are already charging a small fee for foreign students on select courses. Starting from Winter Semester 2017 the state of Baden Württemberg reintroduced tuition fees for all non-EU Students[1]. All non-EU students taking up places in institutions will be required to pay fees of €1,500 per semester. Whereas, for a second degree, students will pay a reduced fee of €650 per semester.
Also See: 11 reasons why choose to study in Germany?
The Conclusion
Starting from Winter Semester 2017 the state of Baden Württemberg reintroduced tuition fees for all non-EU Students. All non-EU students taking up places in institutions will be required to pay fees of €1,500 per semester. Whereas, for a second degree, students will pay a reduced fee of €650 per semester.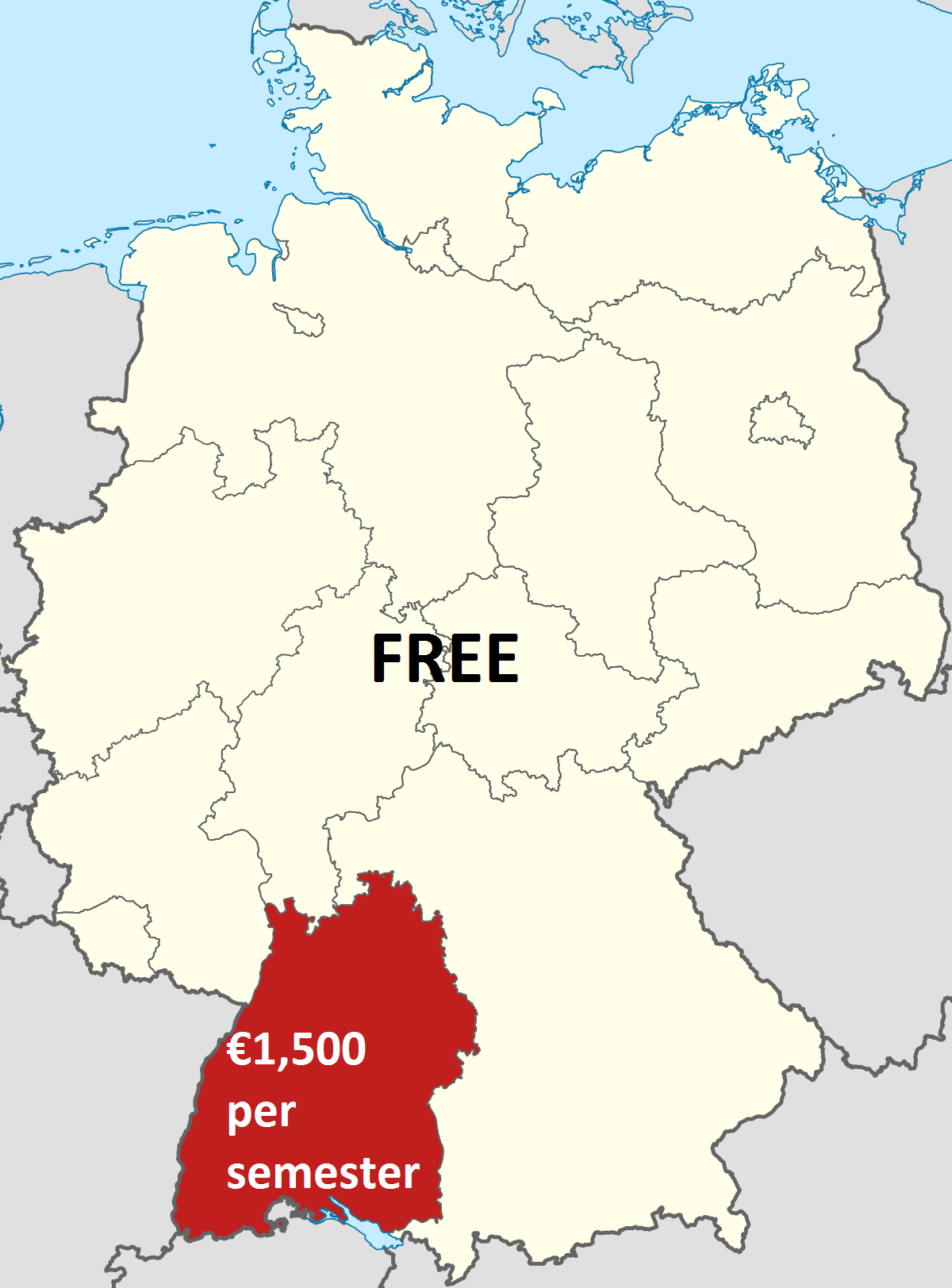 German universities affected by the changes to tuition fees include:
Universität Freiburg
Universität Stuttgart
Ruprecht-Karls-Universität Heidelberg
Universität Konstanz
KIT, Karlsruher Institut für Technologie
Universität Mannheim
Eberhard Karls Universität Tübingen
Universität Ulm
So if you are planning to study in Germany, check our blog How to apply at a university in Germany? and start planning now. Before it's too late.
If you want to be informed on more about studying and living in Germany, do not forget to subscribe to our blog and like us on Facebook.
Download our Android app from the Google Play store to get all the information about, living, studying and working in Germany all in one place.