How to apply at a university in Germany?
Germany is one of the top destinations for students. The interest of studying in Germany for students has only increased over the past years.
So here is a short guide about what kind of courses are available for international students and how to apply at the universities in Germany:
Choose the university
The first thing you need to decide is to find the course and the university you would like to apply to. There are 2011 international courses available at the universities across Germany. You can search the database of German Academic Exchange Service (DAAD) to find the right course for you. While choosing the course, be sure to check the following:
The course language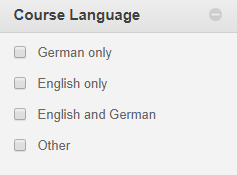 On the left side of the search form, you will find an option to choose the language of orientation. It is suggested to choose the English only course. But if you have had your prior education in German or if German is your mother tongue. Then you can ignore the option. Please remember that even if you are proficient in German, studying in German is very different. The technical German is quite challenging than conversational German.
University ranking
You might first want to check the ranking and study conditions of the university. CHE ranks universities based on various factors like Overall study situation, IT-Infrastructure, Funding etc. You would need to create an account on their website to check this.
Location
The location places an important role while choosing the university. While I do not want to discourage or have a bias, but it is suggested to apply for the universities in the west of Germany than in the east.
Ones you open the course page on the website you will need to check the following details:
Admission semester
Not all universities have take admission in both Winter and Summer semester. Thus you need to check well in advance and apply before the deadline. Most universities have admissions open in Winter semester. Thus check the admission deadlines well in advance so that you can take the required exams well in advance.
Costs and Funding
This would be a major contributor in deciding the university. Not all courses at the university in Germany have free tuition. While there are no tuition fees for most courses there are courses which have tuition from 2000€-4000€ a year. The state of Baden-Württemberg has decided to charge international students a fee of 1,500€ a semester beginning from Winter Semester 2017/18. The courses with no tuition would have a minion university contribution fee of about 250€.
Funding is an important factor. Depending on the location of university your monthly expenses would vary from 600€-900€. However, if you are an outstanding student you can get full paid scholarship from university or DAAD. Check the DAAD scholarship page of the respective country and university website for relevant information.
SEE ALSO: 7 Myths about Studying in Germany
As per DAAD website over 50,000 foreigners were given Fundings and Scholarships in 2015.
Language Requirement
This is where you will find all the relevant information about the tests that you need to take. Most universities need only TOEFL/IELTS to prove English proficiency. However, some universities might require tests like GRE to be taken.
If you are applying for German courses, here you will find the information on what level of German proficiency you would need.
Academic Requirements
This is where you will find the academic qualification required to apply for the course. While it is suggested to apply even if you do not meet all the requirements. You will need to write a very strong Letter of Motivation and also have a good Letter of Reference. It is suggested that you get the Letter of Reference from a professor who knows you very well and can describe your academic and co-curricular achievements.
How to Apply?
While most universities have moved now to Uni-Assist (a generalized application submission portal). Some universities still have their own process and you will have to apply directly at Internation office.
Finances
You can put this step off till you have a confirmed admit. But if you are confident of getting an admit, you need to get your finances in order. You will need funding for one year of your education in Germany. The funding required is about 8640€ to apply for the visa. You can find more information here. The living cost differs from city to city, thus the funding you require would change a little. You will need to transfer the funds to a German bank before applying for the visa.
Also, note that the account you would be opening is a blocked account, you can not withdraw more than 720€ a month when you are in Germany until the funding is exhausted.
Get a Travel Insurance
You will need a travel insurance from date of journey to the enrollment date at the university. You can check the German Embassy page of your respective country for more information on this.
Apply for Visa
Ones you have received the admit from a university, you will not have to apply for the student visa at German Embassy. The visa requirements can be found at the German embassy page of your respective country. However, irrespective of your country of origin, if you have admit offer from two or more universities, you need to finalize your choice before applying for the visa. It is suggested that you apply for the visa two to three months before your departure so that you have enough wiggle room in case the visa gets delayed since there are a high number of applicants around that time.
Find Accommodation
Finding accommodation before arrival is very important. WG-Gesucht is a go-to place for finding accommodation for university students. You can also look for student and studenten wohnung (university hostels) group on facebook to find a vacancy. In case you fail to find a long-term accommodation, opt for sublet room. Ones you are in Germany, it is easier to find a place to live. However, beware not to transfer any funds in case any of the room lenders asks for advance money. Also, a signed contract is binding in Germany. So be careful of what you are signing and read the contract thoroughly. Ask for a contract to be sent in English, if you do not understand German.
SEE ALSO: 7 Reasons why living in Germany is awesome
Wish you a good luck. Let me know your views in a comment and do not forget to subscribe for more updates in future.