What is it like studying at University in Germany?
Prologue
Education in Germany is one of the best in the world. University in Germany is a great place for those who want to study abroad. Many students from across the world not only come to study Masters in Germany but also for Bachelors and other courses. The affordable cost of living in Germany makes it all the more attractive.
Germany has come into the limelight in recent years as many people have taken notice of the advantages of studying in Germany when compared to other countries. The most popular destination for international students, the USA has seen a considerable decline in the number of international students enrolling into university.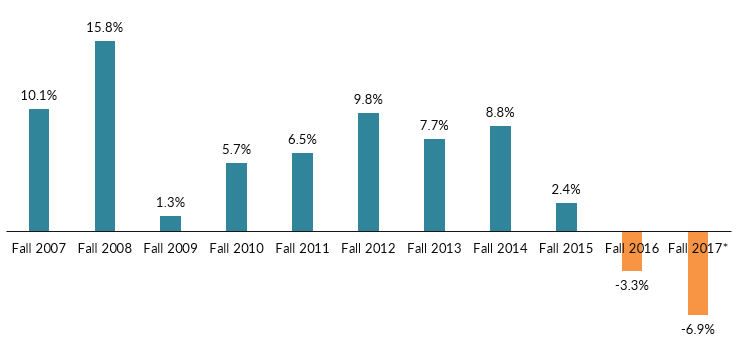 Sources: IIE, Open Doors; Julie Baer, Fall 2017 International Student Enrollment Hot Topic Survey (Washington, DC: IIE, 2017)
Meanwhile, Germany has seen a considerable growth in international students since 2010. The growth from 2016 to 2017 was about 7%.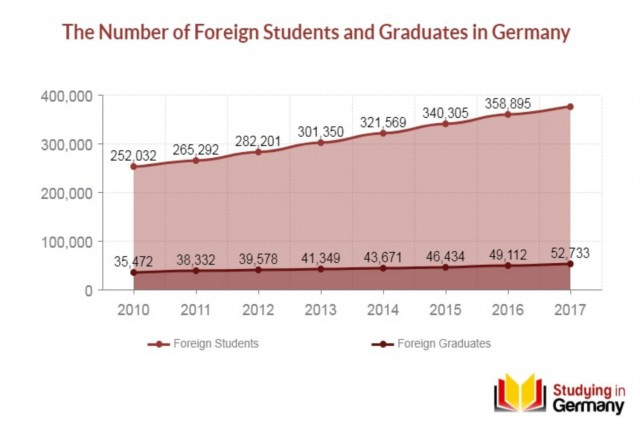 Prejudice about Education in Germany
Several people hold a preconceived notion that Germany is a confined country. Which was once true but the situation has drastically changed over the past decade. For example, it is commonly believed that Germany is the place where you go to study mechanical or automobile engineering.
The current scenario
Having cleared the air, let me now shed some light on to what it is like to study in Germany.

Cost of education
The cost of education is very low in Germany. Which makes Germany a very attractive place to study. Most universities have free tuition, this means you only pay about 200–500€ in semester contributions. I have paid for semester contribution of 193-233€ for my masters in Germany. However, the scenario is quickly changing and some states in Germany have already introduced tuition fees for international students. To read more on tuition fees, please read: Why Germany offers free University education to foreigners?
Course structure
The university culture is quite different in Germany when compared to other countries. Depending on the course you study you might have a strictly structured course or might have the freedom to choose from the bucket of courses and decide on what you'd like to major in.

The University Culture
From what I have heard about from students in other countries, the German university culture is quite different. The professors would not take any interest in your progress. Their job is to teach and leave it to students to learn. It's on you to learn and approach the professors or tutors if you need to clarify any doubts. In short, no spoon feeding.
More on that Is studying in Germany hard? – Know what you need to do!
Cost of Living in Germany
Most places but the large cities like Munich, Stuttgart, Hamburg etc. have a low cost of living in Germany. The rents are low and student accommodations can help you save on rent. When it comes to commodities the discount shops are the students best choice since they offer products and very cheap price with their in-house brands. The average cost of living for a student is about 600–800€. However, I have friends who do not spend more than 450€ a month.
How to find an apartment in Germany – WG and Wohnung

HiWi
Even 600€ in the cost of living is quite a considerable amount for many of us. The people who fund themselves have an option to do a part-time job. Lovingly called, HiWi in Germany. If you are good at programming, there are plenty of jobs available for students. If you are not proficient with programming, there are other jobs available too. With the minimum pay of approx. 9€ per hour and 20 hours a week permit, a student can make in the ballpark of 450–1000€ a month. Thus it is quite affordable to study in Germany.
Student Discounts
A German university student ID and email address is the best discount coupon you will ever get. It enables you to travel for free in a certain region around your town. You can enroll for dozens of student offers, including free amazon prime subscription for one year, reduced adobe creative cloud subscription, free JetBrains softwares etc.
Read the detailed article here: Advantages of being a student in Germany – Offers & Discounts

Travel
No matter where you live in Germany, you are most likely to border at least two countries. Most university towns, border at least two countries. Example, Aachen (Netherlands and Belgium), Saarbrücken/Kaiserslautern (France and Luxembourg), Freiburg (France and Switzerland), Passau (Czech and Austria), Dresden (Czech and Poland) etc. So it is easy to escape for a nice weekend in the nearby country. Also, there are several cheap options like Flixbus and Ryan Air for a longer haul travel.
Job Opportunities
Coming to the fact of the matter, Germany does have plenty of job opportunities. However, finding a job is not as easy as getting an admit to a German university. It is a long and draining process which takes a lot of effort. If you have done your masters in Germany in a non-computers related field then finding a job is especially challenging. Most jobs require a very good proficiency in German which needs more efforts than getting B2 or C1 certificate. However, once you do find a job, life is quite good in Germany. With employee-friendly laws and relaxed work environment, it is a nice place to hold on to even though the pay is usually not excessively high.
Language
The most intimidating thing which put's off many people is the German language. Yes, it is really difficult to get used to many people not speaking or refusing to speak in English. But eventually, one would learn enough German to get around. One really good thing is, people in Germany really appreciate if you are a non-native person trying to learn German, most people are really patient and take time to understand you. It's worth taking your time to learn German and not give up too soon.
More on studying in Germany: 11 Reasons why you should study in Germany?
You might also want to read:
There are two different kinds of universities in Germany, you should know more about it in order to figure out which one is best for you. Thus my friend has put together a blog regarding the same: Universities in Germany – Universität, and Fachhochschule (FH)
Not just for masters, but Germany is one of the most preferred destinations for research. How to get a PhD in Germany – Studying in Germany
Please subscribe to our blog to be informed about the updates.
Download our Android app from the Google Play store to get all the information about, living, studying and working in Germany all in one place.